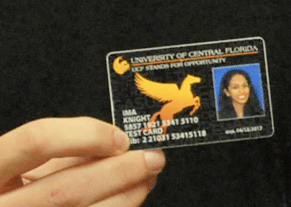 Not only has the University of Central Florida's student ID card gained new functionality, it's currently undergoing a facelift as well. UCF Card Services is revamping the original look with a new card design which features UCF's creed along a black background.
"We wanted to bring it back to the school colors," said Tammy Kidder, UCF card services manager. "We wanted it to be more identifiable for students."
The cards will begin being distributed in May. Students are not required to switch to the new design since the original IDs will retain the same functions as the new card. However, if they wish to switch, it will cost them $15.
The card includes debit card capabilities where funds can be added online at one of the many school kiosks around campus. Previously, students had to add the money to their purse through the Card Services Web site then go to a kiosk to download the funds to their card.
Read more here.