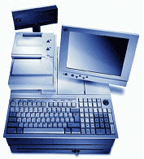 Mountain View, Calif.-based Sequoia Retail Systems was originally servicing college bookstores. As John Diaz, product manager at the company's Raleigh, N.C. office explained it, the company's campus customers drove the company to offer more services.
"We started out in the college and university bookstore market. We are an independent service provider not tied to book wholesalers. We handle all aspects of their operations from point of sale, inventory, ordering, and processing purchase orders. But during that time period a lot of our customers liked our technology and started using it in other areas of the university, so we created a new division that focuses on those areas beyond the book store, such as food service, athletics, and the campus card market."
Sequoia Retail Systems was founded in 1984 by two graduates of the Massachusetts Institute of Technology. Co-founder and company CEO Jim Zaorski, is a 1980 MIT grad with a degree in Mechanical Engineering and a 1983 law degree from Rutgers. Sequoia's other co-founder and company president is Dean Samos, a 1981 MIT graduate in aeronautics and astronautics and a 1982 masters in the same field from the University of Washington. The company's chief technology officer, Dave Eisen, who joined Sequoia in 1989, is also an MIT graduate with a degree in mathematics and a Ph.D. in math from Princeton.

A classic entrepreneurial beginning …
"Back in 1984 we had a consulting project. A company wanted us to build an interface board, that instead of having all their SKUs in a cash register they could put them in a PC," said Mr. Zaorski.
"We took the project on for $4,000, but when we finished the board, we ended up not being paid because the dealer was out of business. So we wanted to get real jobs. We ended up selling 60 of these boards for $1,500 a piece to another cash register dealer and earned $90,000."
That, he said, was the start of Sequoia's "little niche. We sold a lot of them to colleges that had lot of books they couldn't run an item lookup file on. They wanted inventory control and price lookup," he added.
"At the time technology didn't exist to produce a scan file," he said. The memory just wasn't there. But by putting the memory in the computer, you didn't have to put the memory in every cash register. It was ideal for college bookstores. We kind of layered onto that product since then with wireless, kiosks, and credit. But we haven't strayed to far from our original POS system. Of course, we've stopped making the boards because everything on a board you can now do with software."
Sequoia has 45 employees with the corporate office located in Mountain View and branch offices in Raleigh, NC and Portland, OR. The company is employee owned, and has been growing at a rate of 25% for the past three years, said Mr. Diaz, who joined the company 18 months ago after spending 11 years at Duke University.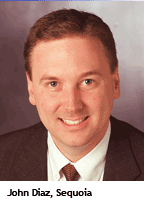 Today, said Mr. Diaz, Sequoia specializes in the development of integrated point-of-sale, textbook management, e-commerce, wireless and self-service transaction processing solutions for more than 300 colleges and universities. With interfaces to major campus card systems, banking networks, accounting packages and student information systems, Sequoia's applications are designed to increase efficiency and accuracy, lower transaction processing costs and provide management information.
"All of our POS solutions are fully integrated with credit, debit card and the campus card. Our POS software can tie those methods of payment into a single payment terminal," said Mr. Diaz. "We did it in the late 80s and 90s when no one else was doing it and we have grown that level of integration to e-commerce, wireless handhelds, and kiosks."
Integration with other systems is key to Sequoia's success
"Our systems interface with major credit card systems including Vital, Global Payments, Paymentech, CARDnet, First Data Merchant Services, Wells Fargo, Novus and National Processing Company," said Mr. Diaz. "We also provide tools to integrate our products with the campus card systems of Blackboard, Diebold and CBORD as well as student information and accounting systems from vendors such as PeopleSoft, SCT Banner, Navision and MAS 90. When a customer comes up to one of our units and wants to pay, the device will accept all the methods of payment including the campus card and debit card."
There are four Sequoia components a college can tap: Point of sale, e-commerce online ordering system, wireless handheld applications, and self-service kiosks.
"We have 12 different applications which can run on handhelds, such as in a bookstore for point of sale, to a book buy-back utility," he said.
In buying back text books, Mr. Diaz said Sequoia has a front-end application "that talks with our database to see the cost of the book and if there's a need for that book. One thing we did at the University of Maine, is utilize a multi-store buy-back between their different campuses. We could look at one of the other University of Maine campuses to see if they needed that book. Rather then send the books off to a wholesaler, they could handle it internally which saved the school money."
Sequoia products in action …
Outside of the bookstore, Sequoia has a wireless POS system "which you can take out to the college's quad (for special events) to validate ID cards to make sure students don't go through the line twice," he added.
A good example of this was reported last year in the Blackboard Connected Campus newsletter. Duke had combined two of its popular spring activities that became a massive outdoor event. The university needed a way to charge food directly to a student's meal plan through his DukeCard student ID. Duke turned to Sequoia's wireless handheld devices.
"It saved us tremendously in time and labor. In the past, for a 10 to 5 event like this one, a technician would have started at 7:30 in the morning and not torn down until 6:30 or 7:00 in the evening. Instead, we just showed up 15 minutes beforehand and showed the staff how to use the devices," Matt Drummond, director of the DukeCard Office, commented in the newsletter.
Another big advantage was an end to off-line, manually processed transactions and the paper lists that had been used at similar events in the past. That also meant greater security and much less chance of fraud.
"We complement Blackboard, allowing them to expand the reach of their program in areas where they don't have a product in that area," said Mr. Diaz. "In the case of wireless handhelds, that's exactly what's happened. We already had the technology."
Another example of Sequoia's wireless application was noted recently in CR80News. Students from Elon University, North Carolina, were able to use their Phoenix Card while attending a basketball game at Duke. Elon students were validated into the game as currently enrolled and were able to use their Phoenix Cash Account to purchase items at the concession stand. All this was accomplished via a Wireless Campus Card Terminal from Sequoia. The DukeCard Office was able to program the device to process real-time transactions against the Phoenix Card Office's Blackboard Transaction System server via the Duke University wireless network.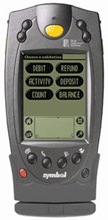 Relying heavily on wireless technologies
He said Sequoia offers more wireless options "than any other vendor in the college and university industry." Sequoia's applications suite, called Wireless Partner, "is fully integrated into various system functions such as sales, ordering, receiving, inventory, price check, item inquiry, buy-back, location search, textbook re-ordering, web order fulfillment and general merchandise multi-store transfers."
With real-time access to campus card systems, credit card networks and student information system data, said Mr. Diaz, "Sequoia's wireless solutions help to eliminate the need for expensive wiring, improve throughput and increase sales while minimizing invalid and fraudulent transactions."
Another Sequoia product is its self-service kiosk. "It's a campus card management center where you can check balances and add funds to your card. Another module gives you the ability to order food, purchase tickets and buy other items on screen. There's also a module that can be used by visitors to look at campus maps, hours of operation, and other important information. These kiosks can be as feature-rich as the university wants," said Mr. Diaz.
Of course the biggest advantage to the kiosk is that students and campus staff have 24/7 access to campus services without the need for additional staffing.
Looking to the future
Sequoia currently serves more than 200 schools in the U.S. "We are continuing to expand our applications. We are seeing a lot of interest in food service for kiosks. We're also doing a lot of work with wireless handheld applications."
Sequoia is looking to expand on its existing modules. "The colleges are always coming up with great ideas and telling us where they want us to go," said Mr. Diaz. "Basically, the whole focus of our company is looking at what's needed and helping our customers reduce their transaction costs."
---
Additional resources:
To visit Sequoia on the web, click here.