Findings from a recent study sponsored by the Better Business Bureau offer significant – and somewhat surprising – insight into the current situation of identity theft in the U.S. It also outlines a great array of practices that can help individuals guard against falling victim. For campus card leaders, it provides a good foundation for creating a card program that is identity theft resistant and for educating your constituencies.
Identity theft is certainly high on the list of concerns among both institutions and individuals. In the campus card world, it is a very real issue that must be faced on multiple fronts. We issue credentials with identification numbers that are subject to loss or theft, we maintain databases that compile personal information on our campus populations, and we frequently cooperate and share data with peripheral service providers such as telecoms and financial institutions. All these aspects of day-to-day operations have significant identity theft implications.
Identity theft in America
The study suggests that 9.3 million American adults were victims of identity theft during 2004. How were these average people victimized? We read constantly of packet sniffing, phishing, spyware, hacking, and other electronic schemes and scams. But in reality, the vast majority of identity theft occurs in the physical world. The study suggests that less than 12% of all theft occurs online. Additionally, online theft tends to be detected more quickly and results in significantly lower dollar losses per incident.
---
The number one source of stolen identity information is lost or stolen wallets and purses. Nearly 30% of all cases occur in this manner.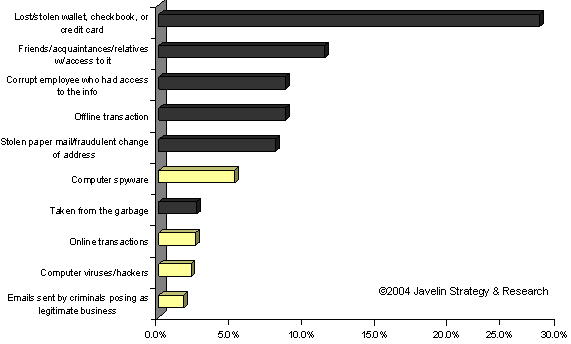 ---
---
In cases where the perpetrator is known, more than half the time is it a family member, friend, or neighbor of the victim.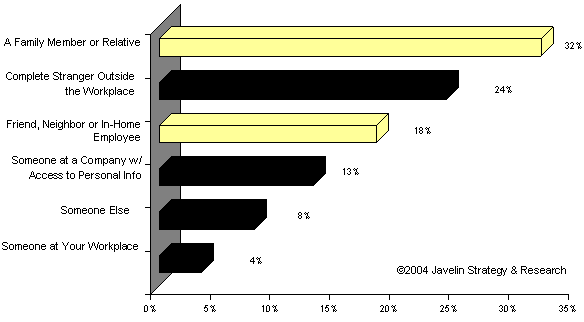 ---
What does this mean to campus populations?
Though not specifically studied among student populations, these findings would suggest the following:
The most likely means of identity theft on campus is from a lost or stolen wallet or by friend, roommate, or neighbor that steals paper documents. This is the first place that students should take action. But this is by no means the only area of concern, and although the study suggests that online theft is less common than many believe, it is still a viable threat.
Taking action
Here are some terrific suggestions presented in the study that can help students and the rest of us protect ourselves from identity theft.
Keep sensitive financial information away from everyone including friends, roommates, and family.
Protect your personal assets from theft or loss and don't carry unnecessary information such as PIN numbers, passwords, or Social Security numbers in wallets or purses.
Cancel paper bills and statements if possible and pay bills and check statements online. You will avoid having paper records for others to steal and you will notice fraudulent activity more quickly.
Shred sensitive documents before discarding them.
Install and update computer protections such as firewalls, anti-spyware software, and antivirus software.
Deposit your bills and mail containing sensitive information in a secure postal box rather than leaving them vulnerable in your home mailbox.
Consider having your mail delivered to a post office box or install a locking mailbox. If neither of these options are feasible, make sure to remove the mail from your box as soon after delivery as possible.
---
Additional resources:
To access this study online,click here