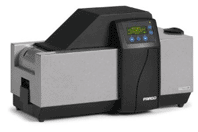 Fargo's new HDP600 printer is one of the models selected by the U.S. Department of Defense for personalizing the Common Access Card. The HDP600 offers the versatility to encode nearly all commonly used ID technologies, including mag stripe, ISO 7816 contact chips, Mifare and iCLASS contactless chips, and HID proximity cards.
Fargo Electronics Launches HDP600 High Definition Card Printer/Encoder
'Next Generation' Design Platform Introduced
Minneapolis (July 23, 2004) – Fargo Electronics, Inc. (NASDAQ – FRGO) today announced the commercial launch of the HDP600 Card Printer/Encoder. Based in Eden Prairie, Minnesota, Fargo markets card identity systems that create personalized plastic identification cards complete with digital images, text, lamination and electronically encoded information. The HDP600 is a dual-sided, full-color printer/encoder that utilizes Fargo's patented High Definition Printing™ (HDP®) technology.
HDP is the preferred technology for the personalization of RFID proximity, laser and smart cards with computer chips. It was chosen by the U.S. Department of Defense (DoD) for its "Common Access Card" Project. The DoD is using the HDP600 for its deployable installations including shipboard, guard reserve and other mobile platforms.
The HDP600 features a new compact design that's 50% smaller and lighter than previous HDP models. It has been designed with simplified electronics for improved reliability and data communication. Plus, user conveniences such as drop-in, color-coded consumables make set up faster and easier.
"The HDP600 is the first in the line of Fargo's Next Generation printers," said Kathleen Phillips, Fargo's Vice President of Sales and Marketing. "These printers will move the industry to the next level in terms of reliability, value and ease of use in reverse image printers."
A Card Lamination Module is available as a factory-built or field-installable option. The lamination module applies Fargo's PolyGuard™ Overlaminate to one or both sides of the printed card for extended card life and added security and durability. PolyGuard is a polyester "patch" that makes card designs tamper-resistant and protects them from abrasion and fading.
A Magnetic Stripe Encoder and E-Card Docking Station are also available as factory-installed options. With it, the HDP600 can encode magnetic stripes, and encode or read up to three types of smart card technology: ISO 7816 contact smart chips (the world's most commonly used contact smart card standard); MIFARE® and iCLASS® contactless smart chips; and HID proximity ("prox") cards (read-only).
"The HDP600 is the printer of choice for anyone using a technology card in their card identity system," said Phillips. "Smart cards, optical memory cards and prox cards are typically difficult to print to because of their uneven surfaces. With High Definition Printing, users can print over the edge of cards, tightly around smart chips and on a variety of card surfaces. Plus, with the inline encoding module, there is seamless integration of encoding and printing on technology cards.
"The field-installable lamination module also makes the HDP600 a very versatile product," continued Phillips. "Users can customize their card identity system to fit their needs now, then add-on in the future when those needs expand. The option is a great value because users can upgrade their printer without having to buy a completely new system."
The HDP600 has a Manufacturer's Suggested Retail Price of $6995 and is available through Fargo Solution Providers.
"This price point represents a new level of affordability for High Definition Printing," said Phillips. "With an 18% price reduction over previous models, the HDP600 will serve the needs of a larger audience of technology card users."
The HDP600's innovative High Definition Printing technology prints images onto a special film, which is then fused into the surface of the card through heat and pressure. This unique method of applying the printed image to the card produces exceptional clarity, color depth, vibrancy and improved durability.
About Fargo
Fargo is the world's leader in innovative technologies for desktop plastic card identity systems. Based in Eden Prairie, Minnesota, Fargo is the only manufacturer to offer three distinct technologies in printing systems – High Definition Printing™ (reverse image), traditional Direct-to-Card printing (dye-sublimation), and CardJet Printing Technology™ (inkjet) – to personalize plastic identification cards, complete with digital images and text, lamination, and electronically encoded information.
Personalized identification cards provide physical, information, and transaction security for a wide variety of applications including Corporations, National IDs, Drivers' Licenses, Universities, Schools, Government Installations, Transportation, Casinos, Healthcare Facilities, E-commerce, Retail Stores, Correctional Institutions, Associations, Sports Events and Recreation Sites. More than 80,000 Fargo systems have been sold in the U.S. and in over 80 other countries. For more information, visit Fargo's Web site at http://www.fargo.com.