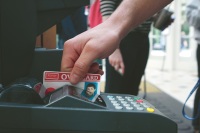 After a year's worth of planning, the new Owl card at New Hampshire's Keene State College is set to be launched with a new look and new features, including usage at vending machines and on-campus restaurants and access to the school's recreation center and library.
The card also enables students to check their balances on line and also to report their lost or stolen card.
One of the problems with the old card is that for many students their facial features and name had worn off. It was getting "harder and harder to prove that the person holding the card is the person it's supposed to be," said a school administrator.
To prevent this wear and tear in the future, the new card has double lamination.
At the gymnasium, students and faculty have to swipe in. This was put in place to prevent non-students from getting in. "If someone doesn't have an ID, we can ask them to leave," said Lynne Andrews, recreational sports director. "If the card is so beat up and worn off, we will tell them to go get a new one," she added.
Read more here.