By Andy Williams, Associate Editor, Avisian Publications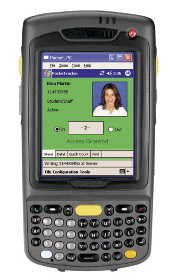 From managing the comings and goings at an event like the Academy Awards to making sure high school students are where they're supposed to be, ID management systems have come a long way this decade. ID systems now are being used to monitor individuals at events, attendance at high schools or colleges, at construction sites or even at the scene of a disaster.
One company that has made ID management its core business is Jupiter, Fla.-based Vision Database Systems. Emil Bonaduce, Vision's founder and president, says a portable device equipped with his PockeTracker software can identify an individual in seconds.
The Academy of Motion Picture Arts and Sciences, which hands out the Oscars each year, is venue that one may not immediately associate with security concerns. Yet, it was looking to avoid a situation that happened a year ago when someone was able to gain access with a compromised credential, says Bonaduce. "They wanted a way to detect this, a discreet way to ID the status for a particular individual, that last little bit of security."
So the Academy turned to Vision's ID software, specifically PockeTracker, which, as its name suggests, is designed for handheld PDAs. The system "functioned very well in the place of a dedicated card reader. It gave them the flexibility to change traffic patterns during the event and still monitor security," says Bonaduce.
The security wasn't for the attendees, but for the workers putting on the Academy Awards, including security people, cooks and everyone involved, says Bonaduce. It was used at two key ungated checkpoints and backstage by a roaming watch commander, says Bonaduce.
Green, you're in
PockeTracker was also used recently to track admission to this year's the Indian Wells, Calif. professional tennis tournament. "We had eight PockeTrackers used in a wireless environment over 10 days, that scanned 18,000 bar-coded tickets," says Bonaduce.
This particular PockeTracker software is what Bonaduce calls "red-green." If the badge or ticket that's scanned is unacceptable, the screen turns red. Otherwise, it turns green. "It's the least intrusive way of scanning an ID card."
PockeTracker is compatible with several models of handhelds and that's one of the major reasons Indian Wells chose it, says Heni Watson, director of special events at Indian Wells.
"We decided to go with PockeTracker because it was compatible with our credential software (Polaroid ID Cardmaker), the portable units were durable and they had the ability to display a photo," she says. Bottom line, PockeTracker worked "very well considering how short a time period we had to learn the system and train our volunteers to use the units."
Probably the best compliment someone can make about a product is if they'll continue to use it. In Watson's case, that's an unqualified yes. "We may also use them for other special events held at our venue," she adds. "We are already working with Vision Database to make next year even more successful."
While Academy Awards and tennis tournaments are unusual uses for PockeTracker, the company's bread and butter is still K-12 schools and college campuses, which are continually looking for ways "to increase security," says Bonaduce.
The company developed the PockeTracker software about ten years ago when it was asked to look at solving the problem of handling tardiness in high schools. The software has since undergone at least three iterations and now does discipline and positive reinforcement, as well. For example, one school in Brooklyn gives out positive points for students who do their homework," says Bonaduce.
Schools take to PockeTracker
The company's PockeTracker K12, is used in middle and high schools in Florida, California, Texas and Rhode Island. "Say there's a bunch of students in the cafeteria. If a student doesn't look like he belongs, you can scan his ID badge, look up his schedule to see where he's supposed to be, check if he has had a history of past violations and you can even print a receipt or a pass to allow him to get back to class," says Bonaduce.
Colleges are also targets for ID management software to handle security and, like the tennis tournament, admission to events. "I don't think security on campus even today is as good as it needs to be," says Bonaduce. "I think our educational establishment should work a lot harder towards allocating funding for safety on their campuses."
However, it wasn't a need for greater security that led Wichita State University in Kansas to PockeTracker. The school was more interested in using the software to keep track of attendance information, says David Kidd, the university's manager of Information Systems.
Tracking classroom attendance
"Our largest event each year is Business Week involving 25 sessions over a five-day period. This is a week-long series of events where we take attendance at each session using our trackers." It's important to know who attends because students can earn extra credit. This attendance information is then later sent to the business school so proper academic credit can be applied.
"One year," says Kidd, "we even included time stamps so that the faculty knew if the student showed up late for a session."
The school has used PockeTracker at nearly 100 events, says Kidd. "We have four trackers that we allow various campus departments to use free of charge. They do have to reserve them in advance and I provide the tracking data along with whatever additional data I have available to the department," Kidd adds.
The university also has used PockeTracker to authenticate admissions to an event. "This was for a picnic hosted by one of the colleges on campus," says Kidd. "It was open only to their students, but since it was outside they needed a way to know who to let in. I programmed the trackers to check which college the student was enrolled in. If they weren't in the right college, the tracker showed the operator a red screen to let them know they shouldn't be admitted."
As for any problems, they've mostly been due to outside factors, such as loss of wireless connectivity or with bad ID cards that won't scan, says Kidd.
PockeTracker is designed to work both online and off. "In wireless mode, you can pull the information up that's on the card you're scanning," says Bonaduce. "In offline mode you can hold a large number of cards and photos in your hand, like all the card information for an entire college."
Keep those batteries charged
One "lesson learned," says Kidd, "is to not let the batteries go dead. When that happens, you have to reconfigure the software including re-licensing. Vision Database support was a great help in getting us back up and going after this happened the first and last time. Fortunately, our trackers stay busy enough now that they always keep a full charge."
PockeTracker can also be used to give a quick count, "the ability to immediately see who's in the room. It answers the question who's on the bus who's off the bus, so it can be used for field trips for children," he says.
For construction sites, you can see when a vendor arrived and how long he was at the site so when you get his bill you'll know if it's valid. "We're finding new uses in the construction field. We're looking at producing ID cards which have the credentials of the person embedded in the card. With our product, which we'll be releasing in the near future, you'll be able to check that person before he goes to that piece of equipment to make sure he's qualified to operate it," says Bonaduce.
Vision is looking at further expanding its reach and giving its customers more choices. "We are working on an application in Europe for club access," he says. "We are also branching out in other markets, such as hospitals, even the military."
The company is also looking at including a built-in fingerprint reader. Right now, a fingerprint reader needs to be attached to the handheld that's running PockeTracker. "We're being asked more and more for fingerprint technology with a handheld for areas which are highly secure," he adds.