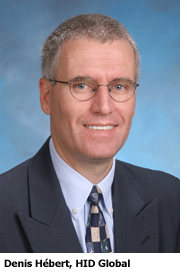 Acquisition brings personalization to HID to "complete the identity management equation"
By Andy Williams, Contributing Editor
HID Global's president and CEO, Denis Hébert, calls it "completing the equation." That's one way of looking at the company's recent purchase of Fargo Electronics because it now gives the company a firmer hold on the complete credential management process, from creation to issuance.
Asked about the importance of this acquisition, Mr. Hébert said, "One of the key factors in our decision to make the acquisition was Fargo's ability to complete our offerings in supplying credentials and ID devices to customers overall. It's one thing to manufacture them and another thing to personalize them."
"We saw an opportunity to complete the identity management equation by joining HID's manufacturing of credentials and Fargo's ability to personalize the credentials," he added. "By combining our technologies with their processes, we are able to provide a more complete solution."
California-based HID Global, a leading manufacturer in the access control industry, finalized the acquisition of Fargo Electronics, an Eden Prairie, Minn. company, in early August after meeting regulatory approvals. Fargo develops secure technologies for identity card issuance systems, including card printer/encoders, materials and software.
Similar cultures, similar missions
"With the completed acquisition, we are now positioned as a leader in the rapidly-growing market for secure issuance of corporate and national ID credentials," said Mr. Hébert after finalization of the purchase. "Controlled access to materials, intelligent hardware that notifies authorities of misuse, and other enhanced process security features will set a new standard for performance in the industry."
Mr. Hébert described the long-standing relationship between Fargo and HID: "When we saw the opportunity to merge the two companies, things moved relatively quickly," he said. Both are now part of the ASSA ABLOY Group based in Stockholm, Sweden.
"One of the nice things about the two organizations is that we're similar in culture," said Mr. Hébert. "This is not a scenario of trying to fix things. We're both well-respected brands working in the marketplace."
What caught HID's eye was the fact that Fargo has successfully transitioned from an equipment provider to a solutions provider in the past 18 months by actively addressing the end-issuer's need to tighten the credential process. This fits nicely with HID's approach to offer a secure, integrated identity management solution.
One of Fargo's offerings that addresses the card issuance process is its SecureMark® Technology, which integrates and enhances the security and functionality of the Fargo Card Identity System. Combining hardware and security software, SecureMark is designed to lessen a card identity system's vulnerabilities by reducing the risk of counterfeiting and unauthorized issuance of cards.
Locking down the card printing process
Fargo's secure software suite can also protect against unauthorized users printing ID cards. The software tracks who printed the card and when. Last year, the company introduced a hardware aspect of its security system that protects the printer and the materials. SecureVault™ is a physical safe that can house cards, special inks, and other card-making materials.
"We're trying to provide a closed loop around the entire issuance process from storing blank ribbons to password-protecting printers. SecureVault is an ID management system that controls and protects a critical and often overlooked part of an issuer's card identity system … the materials," said Mr. Hébert.
Put another way, he said, "We have a more seamless solution. If I have the ability to program a printer (which Fargo offers), I can provide a better service for end users."
Does he anticipate changes at either organization?
"There are no real changes anticipated from an organizational perspective. Fargo has been very successful at building its brand and is a well-recognized player in the printing environment, while HID is well recognized in access control, both physical and logical, from a card and reader perspective," he said.
"Fargo's experience is with photo IDs and it will continue catering to its channel," he added. Yet, while both companies, "follow different channels, there are also some areas we can explore together."
Looking to government, university markets
Moving forward, Mr. Hébert said Fargo will continue to conduct business as an independent unit within HID Global and "both companies will work together to solidify potential synergies and identify opportunities for future digital identity and managed access solutions. The aim is to provide a unique value proposition for high security credential issuance and applications, from process to verification to authentication."
In the post-merger arena, he sees "some great prospects for both of us. Clearly, both the government and university markets are keenly aware of the issuance process and are migrating towards technology cards. On the university side, there are tremendous opportunities to have more encompassing solutions."
While the university market has been primarily based on mag stripe cards, from physical access to library management, "the future opportunity is to move towards smart cards and a more decentralized environment, producing more intelligent cards with greater capabilities," Mr. Hébert said.
At the federal level, with HSPD-12, the issuance process again takes center stage. "It's a large portion of credential management and what Fargo can produce in the physical and logical access areas melds nicely with HID's capabilities," he added.
Government business is, obviously, an important one for both Fargo and HID. Both companies have FIPS 201-compliant products in their lines.
Mr. Hébert foresees federal credential standards being adopted at state and city government levels. "We're likely to expand into state and municipal governments as well as the commercial arenas," he said.
For now, both companies are content with adding to an equation in which the whole is greater than the sum of the parts … and one that could result in great opportunities for both companies.

Compare FIPS 201 Products
Research and evaluate FIPS 201 Approved Products and get the latest info on compliant credentialing systems at FIPS201.com.
Click to visit FIPS201.com
.