A panel of ID industry experts provided predictions for 2006. One of these glimpses into the future will appear here each day during December.

By Fred Emery, Systems Marketing, General Meters
As we look to industry trends for 2006 we will see a greater offering of services for campus cardholders. This will include service-oriented devices such as Kiosks for ordering food as well as an increase in the ability to make purchases on-line with the campus card. We will also see an increase in service through the use of flexible handheld terminals for event validation, financial functions, security and parking as seen in the General Meters Corporation Pocket 1Card™ terminal. These handheld devices will allow campuses to extend otherwise unavailable services to students at remote locations.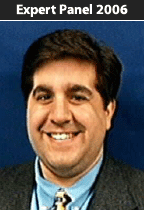 We should also see the campus card used to provide additional security on campus. Through the use of products such as the General Meters Multi-Door Controller™, access control can be extended in an on-line environment to up to 32 doors from a single control unit. If wiring is a problem the Wireless Multi-Door Controller™ and Wireless Door Locks™ available from General Meters Corporation™ will again allow the campus to affordably control up to 32 doors in an on-line wireless environment. Tie this all in with the Master Security Monitor™ to monitor alarm conditions and a campus can provide a secure environment for their students. We should also see an increase in the use of biometrics to assist in creating a secure campus.
It seems that in 2006 we will also see a trend to streamline processes, which will cause campuses to look to their system provider to offer new functions as a single solution provider. This is why General Meters Corporation™ now offers the University One-Card Housing System™ to meet all the needs of the modern campus-housing environment. This includes a web based product for roommate matching, room selection, housing application, dining selection, and student surveys in addition to work orders, key tracking, room inventory, parking, event management and outside merchants.
Students of today are technologically savvy and we must stay on top of the latest technology if we are to meet their growing needs, and as an industry I think we will definitely succeed in doing just that. I know I am excited about 2006 as it should prove to be a year filled with new opportunities in campus card technology, allowing campus card administrators to offer new services and increased security.
---
Visit General Meters on the web at www.1card.com.