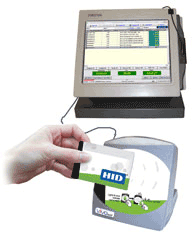 Gallaudet University, a 140–plus year-old Washington, D.C. school for the deaf and hard of hearing, wanted to add cashless payment capabilities to its existing HID proximity cards that controlled dorm access for students. The college didn't want to replace its point of sale (POS) infrastructure, but the existing cash registers accepted only magnetic stripe cards. Enter ViVOtech with a reader that could enable the college's existing system to think it was receiving data from a mag stripe card.
Gallaudet had already installed an HID prox card system to control building access, but students wanted the ability to use those same cards in place of cash. At the close of 2003, nine ViVOpay 3000 readers were installed, providing students with a cashless, contactless alternative when they visit the cafeteria or bookstore.
"It's working out great," said Mohammad Khan, ViVOtech's president and COO. "There are two big values we offer in this installation. One is the same prox card can be used for access and payment. As a student you're dealing with one device, which is very convenient. Second, they (Gallaudet) didn't want a huge amount of changes. Our solution works with the existing POS system."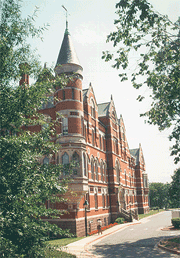 ViVOtech provided the plug-and-play technology that enables the college's POS system to accept transactions from HID cards, he explained. The 3000 reader attaches to the magnetic stripe reader slot. "Through that attachment, it produces a signal that makes the (POS device) think it is being swiped," explained Mr. Khan.
"From a consumer point of view," he said, "you can hold the card, wave the card on the reader and you're done with it. That provides speed and increased efficiency, especially during peak hours."
Gary Aller, Gallaudet's executive director, Business and Support Services, was extremely pleased with the project. "Using ViVOtech's contactless readers and HID's proximity cards have saved the University a tremendous amount of time and labor. We were able to use the University's Simplex remote door opening system and a simple download of student names from that system to provide the database for our food service computer. The system was also easily expanded to include faculty and staff at a later date. I have been very pleased with the efficiency and reliability."
"Our business is enabling contactless payment whether it be in a university, a corporation, or a retailer," he added. The California-based company has shipped more than 75,000 readers in just the last 12 months, mainly in the U.S. to handle contactless cards produced by MasterCard, American Express and Visa.
"The value that our solution provides is that it takes the least amount of effort in software development costs," adds Mr. Khan. "We are able to provide a very simple plug-and-play offering. Overnight, you could start accepting HID cards (for payment)."
It takes about less than half an hour to enable one POS system and requires no technical expertise. "Our guys spent a half day there," said Mr. Khan in reference to the Gallaudet install. "It's a good example of how different universities, using mag stripe cards, can turn into a contactless card system with a very small investment. It can issue a contactless card or fob to students."
About Gallaudet University
Gallaudet University was founded in 1864 (its charter was signed by President Lincoln) and is the world's only university offering educational programs to deaf and hard of hearing students at all learning levels. The university's mission is to serve as a comprehensive, multipurpose institution of higher education for the deaf and hard of hearing. In addition to its undergraduate and graduate academic programs, the University also offers national demonstration elementary and secondary education programs.