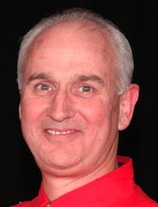 Max Steinhardt, COO for campus card provider CBORD, has been named the company's new president effective May 1. He succeeds Tim Tighe, who has served as a CBORD executive for more than 25 years.
"At CBORD we have planned for this transition," said Tighe. "CBORD will keep front and center our tradition of excellent customer service and an active customer voice in product innovation. Max is fully engaged with our customers. He's demonstrated steady focus on quality of service and customer satisfaction. I am confident that CBORD is in great hands."
Since joining the company in 2006, Steinhardt has served as the senior vice president of operations and more recently as chief operating officer.
"The CBORD team is a terrific group of dedicated and accomplished professionals," said Steinhardt. "It's an honor to become their president. The company is in great shape, with enviable products, a world-class customer base, and a powerful culture that puts the customer first."
He added that CBORD "is gaining momentum in its markets and has added important new international areas of expansion. As our team looks at this internal transition, we're very aware of the leadership strength that has guided the company. We are aware of the vision our leadership has shared. My priority will be to carry that vision forward as we build a successful future at CBORD."
The CBORD Group provides campus cashless and security solutions and foodservice and nutrition management software and related services.