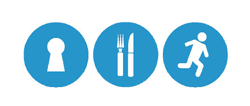 Tom Bell offers expertise to campus card directors
Paraphrasing a famous comedian, Tom Bell says that campus card programs 'get no respect.' This is despite the fact that if a school's card program were suddenly to go away, he believes the university would practically shut down.
Bell considers himself an evangelist for the campus card industry and for the past 11-years he has been shouting the merits of campus cards. He's still doing it today, but on his own and not as a part of Blackboard Transact, which first hired him in 2001 to help build the company's then new campus card division.
Bell joined Blackboard from the State University of New York at Geneseo, where he was executive director of the school's auxiliary services corporation. "I ran all the money-making businesses on campus and that's what got me involved in card programs," says Bell. He was so involved, in fact, that he and several other campus card personnel helped found the National Association of Campus Card Users.
Bell, who lives in Rochester, N.Y., with Robin, his wife of 40-years, left Blackboard in July 2011.
"I was looking around trying to discover what I wanted to be," says Bell. "Eventually I began to get calls from people wanting assistance and I enjoyed this so I made it official and incorporated," he adds.
TGB Consulting–the "G" stands for Graham–was formed in February to helps campus clients define goals and develop strategies to reach them. "If you think about it, we are often trying to maximize our value to the administration," says Bell.
"I ran an Auxiliary corporation for 28-years and I understand the politics and how campuses work. I can bring ideas on better student services and correct conflicts in operations that may be hurting revenue streams."
As to the late Rodney Dangerfield's joke about never getting any respect, Bell says many campus card offices feel the same way. "They're hidden on campus and not recognized," he adds.
For what a campus card office does it's forgotten when it comes to the budget. "The card office is running access control, food service, activity control, yet the campus tends to forget that when it comes to funding. If you look at a typical computer, it's probably no more than three years old, yet some typical card systems are 20-years old," says Bell. "There is no understanding as to what it takes to run a card office."
He likes to ask administrators what would happen if their institution's card system suddenly shut down. "There would be major problems," says Bell. "Doors wouldn't work, students couldn't pay for meals … all reporting would go away."
Thus he stresses that the campus card office needs to become a more visible part of the institution. He wants to end what he calls the "organizational vanishing act."
"Card programs run behind the scenes and support many campus functions focused on student engagement, campus safety and accountability," Bell says. "I can help campus executives understand the role and importance of these programs. The result is improved recognition and respect for campus card programs."
That can also lead to a greater return on investment. "One of my most enjoyable tasks is to find new revenue or other value opportunities," says Bell.
One problem found at schools is multiple, competing cards for different applications. "At one school, I was told that only one card existed," explains Bell. "By the end of my analysis at least five others were found. All could have been easily combined saving costs and bringing more value to the official one card program," he says.
When Bell first comes on a campus, he likes to meet not just with campus card personnel but also with other administrators and even students.
In his meetings with students, he asks how the card program is working for them and what's important. At one school, a student told him he wanted his financial aid deposited to his ID card. He lived in a remote town in Europe which is where his financial aid check was mailed. It took quite awhile for the check to catch up with him. "It's good to have these discussions because campuses don't often have them," says Bell.
Bell's new consulting business is young but he still considers himself a campus card evangelist. "I always have been," he says. "I love college students, I love working with them. I love figuring out how to do a card program in the best way possible. And it's a great way to make a living."