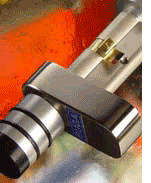 Imagine replacing only the cylinder inside your existing door mechanical door locks and converting them into electronic access control devices. That is the concept behind products from BUGA, a German company, that is turning traditional key-based locks into prox and contactless readers that integrate into wider access and security systems.
BUGA's flexible, cost-effective electronic cylinders enable to easily add electronic functionality to mechanical locks
Major ASSA ABLOY divisions are already tapping BUGA´s know-how to expand their product portfolio and increase their business
BUGA Technologies GmbH, a leading OEM supplier of smart RFID cylinders for locks, has developed a simple, easily adaptable and cost-effective
electronic cylinder that can be used to add RFID functionalities to mechanical locks. The "e-cylinder" will significantly impact the access control market, allowing to implement electronic functionalities in doors where it was previously not cost-effective or impossible to do so.
Since the development of card-based electronic access control, there has been incompatibility between the concept of doors that are secured by a traditional, mechanical cylinder lock and doors that are secured with electronic access control readers: one requires a physical key while the other needs a credential containing an RFID (radio frequency identification) transponder. Buildings with both types of access control systems require a double management system - one for the cards and one for the keys – a solution which is inconvenient and inefficient.
BUGA's product, the BINoXX - DK 4100 Smart RFID Electronic Cylinder, is
designed to address this problem. It can replace a mechanical cylinder, allowing existing contactless RFID-based access control credentials to open doors which previously required a key. They are ideally suited to complete the portfolio of OEMs wishing to expand into the growing market of electronic access control systems, such as time & attendance, access control suppliers or cylinder manufacturers.
By integrating BUGA's ready-to-use electronic cylinders into their
mechanical lock portfolio, ASSA ABLOY and other OEM lock companies will be able to offer complete high-performance building access control solutions that work with a single electronic credential. ASSA ABLOY France and ASSA ABLOY Germany are presently working with BUGA to integrate the technology into their product portfolio.
The battery-powered cylinder recognizes all major transponder types,
including Hitag, MIFARE, HID Prox, etc. Each cylinder can be programmed to allow entry to authorized parties on the basis of pre-set times and dates. For example, if an employee is on vacation, the cylinder can be programmed not to open if the carrier tries to enter during his/her scheduled days away from the office. The BINoXX – DK 4100 is also designed with a double-knob feature that makes it possible to exit a door without the need to present a valid credential.
---
About BUGA Technologies GmbH
BUGA is a leading OEM supplier of smart RFID cylinders, specialized in
integrating electronic intelligence into mechanical locks using RFID
technology. Founded in 1988 as experts in mechanical master key systems, cylinders, locks and accessories, BUGA developed the concept of electro-mechanical locks in the late 1990s. In 2000, aiming to combine the advantages of electronic access control with the security of mechanical door cylinders, BUGA presented its first Electronic Cylinder in a Key/Knob version. Since then, BUGA has added many more features to its product portfolio, whose security features and ease-of-use are unique. BUGA is headquartered in Norderstedt, Germany (www.buga.de).