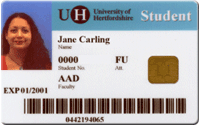 At first glance, card system vendors don't seem to be as much a part of a European campus programs as they do in the U.S. But look a bit deeper and you will find country or region-specific organizations helping campuses build their programs. According to one such vendor – London-based Fortress GB, – card requirements are often very country-specific. The company's Smart Campus solution currently services four universities in the UK: University of Hertfordshire, South Bank University, Thames Valley University, and the University of Gloucester.
According to Natalie Easson, Fortress' marketing executive, the company expects to add "substantially" more universities in the next year.
Fortress started out with contact-type smart cards for its clients, but that is changing, said Ms. Easson. "A few years ago contactless cards were brand new technology and therefore more expensive than contact cards. As with all technology, things move on and become cheaper. We are now in the process of migrating our Smart Campus clients over to contactless cards."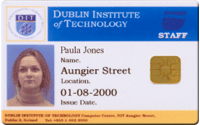 "Each card is preloaded with a wealth of applications (e.g. student ID, time and attendance, credit, debit, logical and physical access, laundry) and self-managed student registration (including online student record update and electronic expiry date). Also electronic voting, as well as an e-purse for use with photocopying, printing, room booking, equipment hire, vending machines, student shops, parking, loyalty schemes and it can integrate with third parties such as transport systems, leisure centers, retailers and so on," added Ms. Easson.
Fortress GB also supplies multi-application smart card solutions through its Smart Stadium program. Via tie-ins with the stadium offering, students at Thames Valley can use their Fortress Smart Cards to pay for and enter the Madjeski Stadium for matches and events. "The nature of the pre-loaded applications means that universities can choose which applications to activate at no extra cost as they are already preloaded and ready to go which also means that cards do not have to be recalled or systems changed," she said. "Being able to introduce third parties to the system gives the additional benefits of new revenue streams for the universities."
The Smart Omnicard at the University of Hertfordshire incorporates a dual interface chip (with both contact and contactless capabilities), a magnetic stripe and a bar code on the single card. This card enables all of the functions that used to be contained on 5 separate cards: identification, bus passes, an access card, a library and computer card, and an e-purse for use at the university's shops or in vending machines. Launched in February 1999, there are approximately 20,000 cards for students and student nurses in circulation.
Value is loaded onto the e-purse (contact chip) at the administration center or via an ATM, in return for cash, check or credit card. This value can be used as cash in shops and vending machines or converted to bus tickets or season tickets at self-service Value Transfer Terminals (VTTs) located at various points around the University's campuses.
Fortress started out in Chip and Pin design and has 15 years' experience with microchip security design. "Today our solutions are used globally by a diverse array of customers, spanning airlines, football clubs, universities, school and city transport systems. Our Smart Stadium solution has been adopted by leading Premiership football clubs, and at the prestigious 2003 SESAMES Awards, it earned us the award for Best Software," said Ms. Easson.
---
Additional resources:
To visit Fortress GB on the web, click here.
To read a case study on the Fortress GB installation at the University of Hertfordshire, click here.