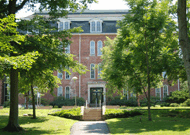 Keystone College, Pa. selected campus card service provider CardSmith and its managed software-as-a-service (SaaS) transactions solution for meal plans and discretionary account services on the college's Key Kard campus ID.
Key Kard provides students cashless access to campus facilities and services including the bookstore, dining hall, retailing dining venues and library services, as well as laundry and contactless door access.
Together with CardSmith, the new Key Kard services offer students and parents 24/7 access to card accounts, and college staff real-time administrative access and on-line reporting services. A new card printing system integrated with CardSmith's transaction system was also installed over the summer.
Previously, Keystone utilized a campus-hosted and administered system for card transaction services.