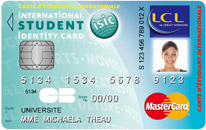 The International Student Identity Card that serves as an ID and discount card for millions of students can now also be used as a prepaid debit card thanks to an agreement with MasterCard.
The card is now accepted anywhere MasterCard is and it also offers text message alerts. It provides an easy way of purchasing necessities abroad. Fraud protection and online monitoring is also part of the package.
The card itself costs $25 and doesn't need to be connected to a bank account.
According to the International Student Identity Card Association Web site, the card is the only internationally accepted proof of full-time student status. It is endorsed by organizations such as UNESCO and is recognized by universities, academic institutions, student groups, national governments and ministries of education. The card is used by over 4.5 million full-time students in 120 countries.
Read more here.