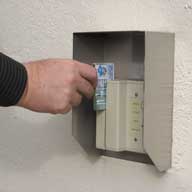 The CBORD Group announced that the University of North Carolina at Chapel Hill is using its CS Gold campus card solution in combination with NICE System's NiceVision intelligent video solution in order to better manage access controls and other security operations across campus.
The university's CS Gold card system integrates with NiceVision to instantly alert campus security operators of when and where a breach took place, automatically displaying live video from the scene.
The university uses CBORD's campus card solution for meal plans, stored value and credit transactions, entitlements, access control, snack and beverage vending, laundry, and copy & print.
At certain athletic facilities the University has also installed Handkey II biometric readers to grant student athletes entry without the need to carry a card.