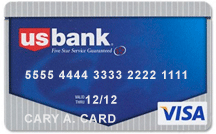 U.S. Bank is the first card issuer in the U.S. to add Visa payWave technology to an unembossed debit card that is issued instantly to an account holder upon opening an account. The instant-issue Visa payWave pilot is being tested at select U.S. Bank branches in Denver and Salt Lake City.
The pilot enables U.S. Bank and its customers to combine three new technologies into one card - instant issuance, unembossed personalization and contactless payment. The instant issue debit card provides several benefits to the customer because the permanent debit card can be issued in the branch at the time the customer opens a checking account, rather than that same customer getting an initial temporary card, then waiting for the permanent one to arrive days later in the mail.
U.S. Bank chose the metropolitan areas of Denver and Salt Lake City due to its strong presence in both cities and because customers there are familiar with contactless payment. Many merchants currently offer Visa payWave readers as a payment option.
Visa provides the Visa payWave feature in this program, while Dynamic Card Solutions is supplying the software and hardware necessary to personalize and issue the debit cards instantly at the branches.