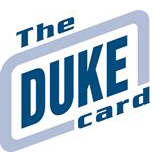 Phoenix Card Scores Big at Duke Basketball Game
by Matthew Drummond, DukeCard Office and Janet Cooper, Manager Phoenix Card Services
Elon University's Phoenix Card Office and Duke University's DukeCard Office partnered to provide a unique service in an effort to promote the convenient and secure method of payment of both schools' one cards. Elon students and staff were invited to attend a Duke basketball game where they were able to use their Phoenix Card at Cameron Indoor Stadium. Elon students were validated into the game as currently enrolled and were able to use their Phoenix Cash Account to purchase items at the concession stand.
Using a Wireless Campus Card Terminal from Sequoia Retail Systems, Inc., the DukeCard Office was able to program the device to process real-time transactions against the Phoenix Card Office's Blackboard Transaction System server via the Duke University wireless network. All transactions between the Wireless Campus Card Terminal and Elon's campus card system were encrypted ensuring that cardholder numbers and other data were protected.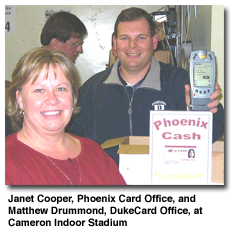 Though the pilot program was small, the event was a big success. Mike Vivenzio, a sophomore at Elon, said, "The experience was great. Being an Elon student and a Duke fan, this really helps me a lot. It offers me an easier and more convenient way to pay for things at a sporting event or on the Duke campus." Andrew High, also a sophomore at Elon, had a positive experience as well and is excited about the possibility of being able to use his Phoenix Card at other schools in the area.
This partnership was easily formed because the schools are approximately 30 miles apart, both use the Blackboard Transaction System – Unix Edition and both have established, successful card programs.
Once all parties involved from both universities were on board with the project, Phoenix Card transactions were successfully being processed via the Duke wireless network in less than an hour. The Wireless Campus Card Terminal was also programmed with profiles that allowed the user to switch between processing transactions for Duke patrons and Elon patrons on the same device.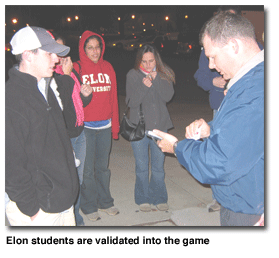 Duke Stores Concessions was pleased with how the pilot project went and is excited about the future possibilities with other North Carolina institutions, Atlantic Coast Conference members and any other schools with close ties to Duke University. They believe the ability for the other schools to use their campus card at Duke will increase their revenues.
Both universities hope this pilot project marks the beginning of providing this service to other schools that visit their campuses for co-sponsored university activities such as athletic events and academic programs. They envision this type of service being very useful to those schools who are not only geographically close but also have collaborative efforts through other programs that closely intertwine their community members.
---
Additional resources:
To visit the DukeCard Office on the web, click here.
To visit Elon University's Phoenix Card Office on the web, click here.