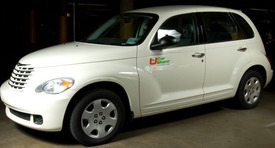 Car sharing services are starting to make their presences felt on college campuses and in cities throughout the U.S. The latest company to join the environmentally-friendly trend is U-Haul, best known for its truck and trailer rentals, which has launched U Car Share. It joins Zipcar, which already services more than 100 college campuses.
The latest school to sign up for U Car Share is the University of California at Berkeley, where four PT Cruisers and one van have been strategically placed around campus for students and faculty to use.
Of course, the cars aren't free. Students or anyone else must sign up at the U Car Share Web site. They'll then be issued a smart card which they can use to rent one of the vehicles by the hour or day. After reserving the car, you simply hold your card up to the reader located on the windshield. The doors will unlock and the keys are available inside the glove box. In addition, if the car is low on gasoline, U-Haul even provides a credit card to fill it up.
U Car Share vehicles can also be used in Portland, Maine; College Station, Tex.; Madison, Wisc.; and Portland, Ore.
Zipcar recently arrived at the University of Illinois at Champaign-Urbana, and while it, too, provides a contactless membership card that can open a reserved vehicle, it also allows members to reserve cars via mobile phone and locate cars via a GPS locator, according to its Web site.
Read more about Zipcar at the University of Illinois here.