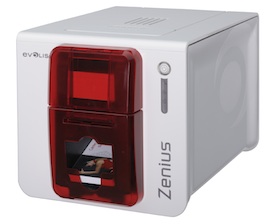 Card printer manufacturer Evolis will be bundling cardPresso issuance software with three of its printer models. The Portugal-based company cardPresso manufacturers its namesake software and specializes in card personalization solutions.
Starting in April, all Zenius and Primacy printers – Evolis' flagship printer offerings – will ship with the basic edition of cardPresso. Additionally, all Quantum models, Evolis' semi-industrial printer, will also come bundled with cardPresso software.
cardPresso is an application to design, print and encode ID badges. The basic version of cardPresso includes all the standard features and offers predefined templates, signature acquisition, WIA/TWAIN and DirectShow acquisition as well as bar code printing and magnetic encoding.
"With cardPresso, we (are) delivering an end-to-end solution that combines a printer and its companion design software," says Christophe Peraudeau, product marketing manager for Evolis. "cardPresso brings additional value to our range of printers, as well as increases business opportunities for both Evolis and its network of partners."
cardPresso offers six editions, spanning 18 languages, with each successive software version offering additional features. It enables the import of data files in a number of formats – txt, xls, xlxs and csv – and via ODBC links. The cardPresso software suite supports all major card technologies including barcodes, mag stripes, contactless RFID and smart cards.
The software is compatible with both Windows and Mac operating systems.